Consumer food-buying behaviour changed in response to the pandemic, but what habits will stick and what new trends will emerge post-pandemic?
During the COVID-19 pandemic, food-related retail sales increased due to the initial wave of panic buying, restaurants being closed, and people staying, working, and cooking at home.
However, retailers went through disruption of their own with costs becoming 2x due to unexpected operational expenses, supply chain disruption, and measures to keep staff and customers safe, alongside the acceleration and expansion of investment in online services and delivery.
Nowadays Online grocery store is a vitally important strategic channel for all retailers. The online grocery delivery software offers convenience of dispatching grocery items. Also the online grocery store work on a contactless delivery approach. Just customers need to do is to choose and pick the items into the cart.
Read More: Power Up your B2B eCommerce with Search | Harnessing Cloud For Success in Pandemic | Microsoft Dynamics
The development and trajectory of the industry will heavily depend on the evolution of the pandemic and how consumers behave in response. Which consumer behaviors observed during the pandemic will stick and what new trends might emerge post-pandemic?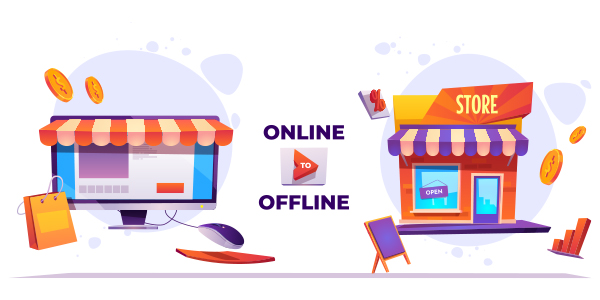 Here are five trends that we will believe will largely shape consumer behaviour going forward:
1. Online Becomes Mainstream
The partial or complete pivot to online commerce for retail will be the most pronounced effect in the coming years for this sector. Online accounted for nearly 21% of market growth in 2020 (around 40% in the United Kingdom) and will capture an increasing share in the short term as the channel continues to expand and evolve.
For grocers, it becomes clear that winning market share without winning online will become increasingly difficult.
2. Traditional Supermarkets are Losing Steam
Generic bricks-and-mortar supermarkets, which lack a clear differentiation, had been struggling before the pandemic.
And businesses with a clear target audience and value proposition have grown in this space, as they continuously identify gaps in the traditional supermarket structure and use their value proposition to fulfil customer needs.
Read More: Digital Transformation | Enhance Your eCommerce Store | NopCommerce vs Magento | NopCommerce
3. Technology and Personalisation
Grocery businesses have started to recognise technology and innovation as important differentiators. This trend is being propelled not only by the critical role of online channels and new store technologies, such as seamless checkouts, but also by the promise of supply-chain automation and automation of the commercial back-end process to move to Amazon-like efficiency.
Not only does the right use of technology bring considerable benefits in automation and efficiency, but it also provides a gold mine in the form of data insights.
As grocers invest heavily in analytics & mastering specific use cases, such as pricing, mass promotion, & assortment optimisation, the trend exposes the underlying intent to win consumer loyalty as they move from mass to personalised promotions & from harmonised assortments to store-specific ones.
4. Health and Sustainability
Consumers have increasingly demanded organic and certified healthy foods as an understanding of plant-based, high-protein. And free-from GMO foods penetrates further into consumers' lifestyles.
Similarly, there has been a steady rise in the share of eco-conscious consumers over the past few years. And the pandemic has only expedited that demand.
For instance, Germany saw a 27% year-over-year growth for sustainable foods. Another report suggests that about 29% of CEOs expect sustainability to be a top-three trend in coming years. For retailers, this means addressing this demand from an operations perspective as well as from a choice of food perspective.
5. More Value for Money
There has been a continued trend of consumers shifting to cheaper food options. And, Letting go of brands that offer the same food at a premium price. The underlying intent for consumers is to save money due to the overall slowdown caused by the pandemic.
Tmotions created Multivendor and Single Vendor customizable grocery delivery solutions which provide advanced features to manage your grocery business. Choose our Online Grocery Ordering System and Delivery Software For Your Business to generate more revenue.
If you would like to know more about our Grocery delivery solution or would like to book a demo, please click here.
Also Read: Microsoft Dynamics 365 and nopCommerce