Does your site have all the advanced features and functionality to keep customers happy and increase conversion rates? From analytics to smart search and personalised recommendations, we can help you improve your eCommerce site
Your dream project is live and running smoothly, And you are wondering what next can be done to engage your customers better. Give an extra nudge to make a purchase, and stay in front of your competitors.
Every IT company can help you build a store with the basic features using one of the platforms available like Shopify, nopCommerce, Magento, or wooCommerce. That is the easy part. They finish this and then vanish or maybe provide some support.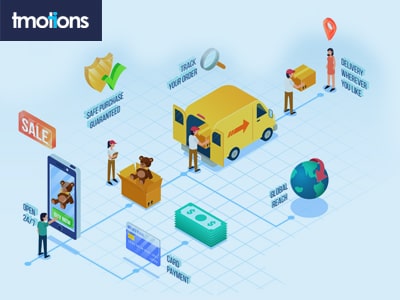 But the relationship should not end here, you have just developed a powerful tool with them. If you don't keep your site updated with new capabilities and functions, it will soon become ineffectual.
You would have known by now that the minimum viable product is good to start with. But you need to keep on adding more advanced features to strengthen your position in the market. And to keep your customers happy and engaged.
Read More: NopCommerce vs Magento | Microsoft Dynamics 365 and NopCommerce | How Food Went High Tech
Tmotions is a leading eCommerce Service Providers in the UK. We follow a strategy of first developing the minimum viable product with the end-to-end functionality of eCommerce but while it goes live. We work with our clients on their vision and define the roadmap. And strategy for the next phase as its very crucial.
More Ways To Keep Shoppers Engaged
While the roadmap varies for each industry, here are some advanced features that every sector needs.
1. Smart Search
Most of the platforms provide a basic search when the site goes live. But you may not realise that search plays the most crucial role in the sales cycle.
Studies have shown that shoppers who use the search bar to look for products have a higher inclination to buy the product as there is a defined need and they aren't just window shopping.
Now, search functionality has gone to a different level where you can just add a product to the cart directly from the search bar. This is a very useful feature if you have recurring clients and they buy similar products each time like in the grocery business.
For the fashion industry, a search item should display a mini box with about 10 items to choose from with the add-to-cart button and any colour options they might have. The intent is to highlight the best possible products without needing to go to the detailed page.
For the eGrocery industry, a search should allow the direct add to cart and should also allow the user to add a list of items to be searched instead of just one item. We develop custom e-commerce solution that redefines the way people interact with e-commerce businesses.
We have years of experience to build and maintain fast, robust, secure, and reliable online retail solutions, tailored to your unique business requirements.
Taking steps to improve your search function will improve the conversion rate.
2. Personalised Recommendations
Why is the retail experience so different from the online shopping experience? It is because in bricks-and-mortar retail there is someone standing next to you who can recommend products based on what you are looking for.
But in eCommerce, there is no one who can do that for you, so we must make the system intelligent enough to suggest more products based on a client's interests and buying history. This feature is used by big players like Amazon and eBay but now, even small stores have understood its value in the conversion rate and hence, it has become more of a necessity than a luxury.
You might say that you already have a system in place that recommends products to the user.But do you know if it is based on the user's purchase history and interests, or is it generic, based simply on the product that has been searched for? For startups, product-based recommendations work well but as you grow, you need to focus more on personalised recommendations.
Read More: Harnessing Cloud For Success in Pandemic | Microsoft Dynamics 365 for Sales | Digital Transformation
3. Analytics
Everyone is aware of how important analytics are. And these days most of the platforms do have analytics tools but are they enough? So, you can track the number of conversions, number of customers registered, maybe you also know your bestsellers. But…
Do you know the frequency of your repeat customers?
Can you segment your customers?
Do you know how each product is performing month on month?
Do you know which city/state is giving you maximum orders?
Do you know what your average order value is?
And much more similar analytics. Probably not. Your basic platform will not be able to give advanced analytics but as you grow. Analytics play the most significant role in making the marketing decisions and touching the bottom line, i.e., to sell more.
What do you need for us to be able to show you dashboards and reports with all the key points? Well, only data. So, as long as you have a database, it does not matter which platform you are using. We can help you with the advanced reporting.
4. Ease Of Checkout
The eCommerce store is not complete without the checkout process; it is the backbone of any eCommerce. But is it fully optimised? Many blogs talk about the optimisation of the landing page, and it is important. But every page of the site is a landing page.
So, every page needs to be optimised for the best results. The journey of the user from any page to the checkout should be as seamless as possible and with minimum steps.We have, in fact, achieved the two-step checkout process.
Not only is a seamless journey to the checkout page important, but the checkout page needs to be well crafted.
Gone are the days when people wanted to see how many steps they needed to perform in order to make the purchase.
Now, the complete checkout should happen on a single page, so, no clicking and no wondering how many more steps.
5. Connection To Social Media
Depending on who your customer is and how much time they spend on social media, You need to make sure that your site . And major social media platforms like Instagram, Facebook and Twitter are connected.
The integration has gone to a level where when you post a new product on the site. It automatically goes to a social media platform. And you can sell your products directly from Facebook and Instagram.
These are the advanced features and there are many more like integration with 3rd parties – which can help you stay ahead of the curve.
Being the best eCommerce solution providers in the UK, we can help to grow your business by tailoring your site with the best eCommerce solutions to scale in the UK & across the globe. Nopcommerce provides multistore features which are the best open-source eCommerce shopping cart solution.
Using the NopCommerce theme gives a unique chance to highlight your eCommerce store from the dozen of typical default nopCommerce stores.
You can contact us at info@Tmotions.com and we will be happy to do a quick free audit and recommend ways to help you engage your customers better and increase the conversion rate.