This is the case study about integration of Microsoft Dynamics 365 marketing with a nopCommerce store. Here, you will go through the process of integrating the nopCommerce with MS Dynamics CRM and the results after implementation.
Why to Choose Microsoft Dynamics 365 with your nopCommerce Store?
In this ideal world, sharing the right information with the right person at the right time is extremely necessary. Now, what does this means? It means the email that is sent to the customers should have the information customer is searching for and should aid in conversion. Before having a meeting with the clients, the sales staff should also have all the talking points for customer engagement. These factors will help business owner to achieve their targets and would deliver strong ROI.
When the owner of an eCommerce store contacted us, they were recording the data in silos and facing some serious issues with the customer details, sales, campaigns due disintegration of data. And at that point of time maintaining customer data across hundreds of spreadsheets. And hoping from one file to another for a single lead or customer details was no longer possible. So, they were looking for a microsoft dynamics CRM to keeps track of all business points of contact, including website, telephone, direct mailings, social media, and all other marketing materials, they can have access to detailed information regarding previous interactions with a specific client.
It must help provide them as much customer-related information as possible: shopping habits, interests, shipping preferences, and more. An efficient CRM solution for online store which must give a clear customer journey map so that they can come up with better marketing strategies and increase sales.
Read More: Power Up your B2B eCommerce with Search | 5 Things You Need To Succeed as a Grocer in 2023 and Beyond!
Client was ready to invest in system for longer time to avail the latest features and increase the business growth. So, being a service provider for both nopCommerce and Microsoft Dynamics 365, we proposed a solution to integrate their eCommerce store with MS Dynamics CRM. Microsoft dynamics marketing automation solution for companies need more than basic email marketing at the front end of their sales cycle.
Microsoft Dynamics 365 for sales and marketing is one of the best customer relationship management platforms in the market which avail in turning visitors into leads, nurturing them into customers, and quantifying your business magnification. It helps to generate multichannel marketing campaigns, nurture sales-ready leads, and align your sales and marketing teams with planning, tracking tools and much more. Microsoft Dynamics 365 customer service boosts performance by providing a crucial, innovative blend of collaboration, insight and timing.
Integration of nopCommerce with Microsoft Dynamics 365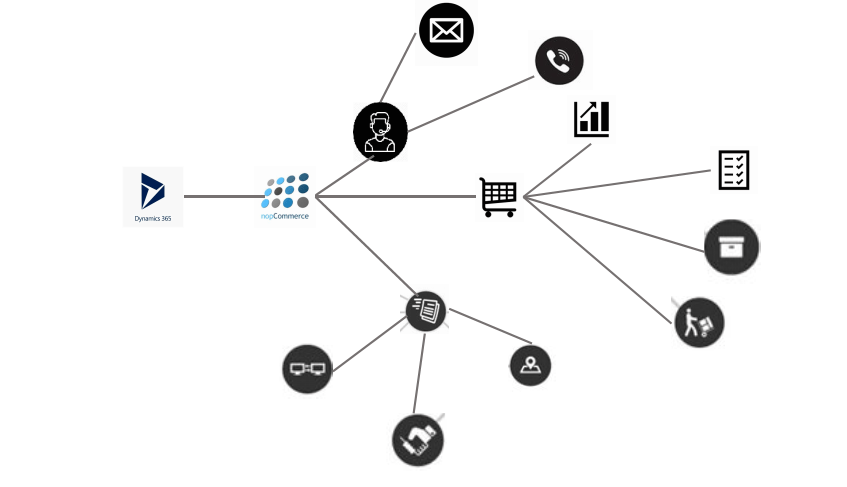 The manual process of exporting the customer data in spreadsheets and importing them in Microsoft CRM is time consuming and there is a scope of mistakes. In order to cope with this issue, we should integrate our web shop with the CRM to engender a smooth data synchronization mechanism between the two systems.
We commenced by engendering an authenticated test account on Microsoft Dynamics 365, and then we tried to create a link between two systems using its Web API. Dynamics Web API requests can be performed with scheduled tasks (ITask) or with subscriptions (IConsumer).
For Azure authentication, a Nuget pack with ADAL libraries (Active Directory Authentication Library) should be used: Microsoft.IdentityModel.Clients.ActiveDirectory.
In the plugin settings, the following authentication parameters should be defined: ServiceUrl, ClientId, TalentId, ClientSecret.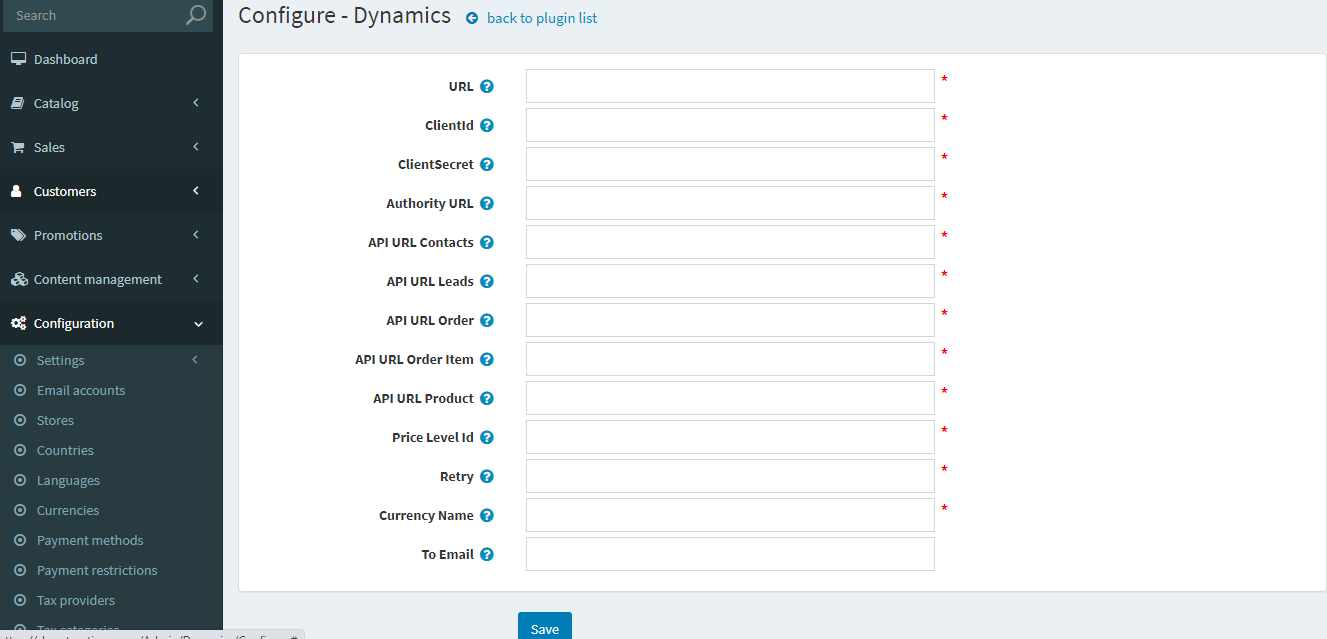 Though in most of the cases there is bidirectional synchronisation of data, we have implemented one-way sync as per the requirement. The next step was mapping the fields amongst both the systems as per the business model. While working on the integration we bear a few points in mind.
Smooth and efficient transfer of data between the two systems
Data mapping as per the business model
Real time synchronization of Data
Instant Notifications with error logs
The data synchronization can be real -time or can be planned by making scheduler in nopCommerce which will run automatically after a certain period of time as per business requirement.
Read More: How Food Went High Tech | Five Trends Shaping Grocery Retail in 2023 And Beyond
Data Mapping between nopCommerce and MS Dynamics 365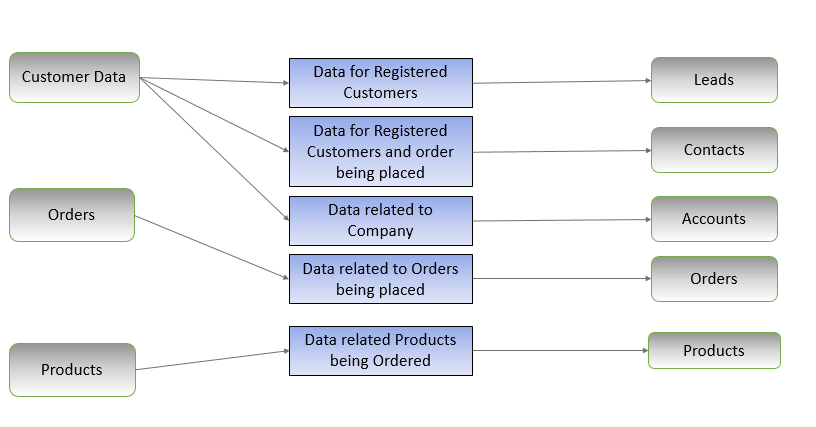 After successfully integrating the two systems we move forward with the implementation of Microsoft Dynamics 365 marketing automation. Every enterprise is different. Not only in terms of scale, complexity and volume of order, but also in terms of precise criteria and we've customised the system accordingly.
Business Processes and Workflows

Business process flows help us to define a set of steps for to follow to take us to a desired outcome. These steps provide a visual indicator that tells people where they are in the business process. We have customized the system on every entity to effectively accommodated all the business processes and workflows in system.

Product Catalogue

CRM allows you to maintain a Product Catalog with multiple customizable price and discount lists as per your business needs. We have created a new product catalogue to match their business needs.

Customization of sales & marketing modules

Customization of system to make it personalised multi-channel journeys to deliver the right message at the right time in the right channel to create rewarding relationships with the client.

Dashboards & Reports

We customized dashboard with a variety of charts to have graphical views of our system's key performance indicators. A few customized reports were also implemented to match the business requirement.

Integration

We have further integrated it with outlook and social media platform to track the data in CRM.

Custom Views

We created some custom views for business owner for every entity within the system to represent the data in an appropriate way with fields which are necessary for business.
The Results of Integration: Benefits for the Client
Once the implementation & integration is complete business owner doesn't have to do any manual work. Data will get synchronise in MS Dynamics CRM without any manual efforts by business owners. If you are looking for all in one business management solution then cloud based Microsoft Dynamics business central is the best. It enables customers to upgrade the entry level accounting software to manage finances, operations, sales and customer service.
Unified framework which potentiated business owner to construct vigorous connections with their clients. It takes activities predicated on insights, and close deals faster.
Increase in conversion rates with lead and opportunity scoring predicated on progressed scoring models to distinguish clients most likely to change over and buy.
Tailor engagement predicated on contextual insights –recommend personalised talking points and next best actions
Align sales and marketing- Seamless customer experiences through marketing automation, shared data, and business processes connected to Dynamics 365 Sales. Which will increment lead generation and productively nurture leads.
Creating interactive customer journeys which provide a more personalized experience: The marketing has a designer journey feature. That can be used to create a multichannel. And, automated campaign that sends customised email messages, launches workflows, facilitates follow-up events, and does much more.
Analyze and document the Return on Investment (ROI): Using reports and the dashboard to track marketing campaigns success. And identify the best marketing efforts and lead sources. Combining the marketing and sales outcomes to maximise the business impact.
Capitalize on survey results: Surveys are one of the simplest ways to get consumer reviews that can be acted upon. It helps to consider the desires and needs of each individual customer. Helping businesses to build enduring partnerships and increase revenues. All in all, it is an exceptional solution due to its intuitive use. And customizability which makes it tailored to the needs of companies.
Client has shared positive feedback with us that the integration has proven to be beneficial for their business growth. Conversion rate has been increased significantly by 40% within a few months of using Microsoft Dynamics 365.
We have also developed a plugin to integrate both the platforms. Which is easy to install and configure in a few easy steps. The Plugin will allow store owner to connect, sync all the customers'. And their contact details between nopCommerce and dynamics 365 for quicker access.  It will help turn visitors into leads, nurture them into customers, and measure your business growth.
Whether you're already using the Microsoft Dynamics 365 or just considering it for your company. The good news is that you can maximize its value by incorporating it into your nopCommerce-built web store.
Read More: Digital Transformation | NopCommerce vs Magento