NopCommerce & Magento share a lot of similarities in terms of features & functionalities, and both are developed to fit businesses of any size (small to large scale). Below we have enlightened the detailed comparison of both:
With the pursuit of the eCommerce marketplace, the competition in the e-commerce sector is escalating & it has become a daunting task to select the best e-commerce platform for an online store.
There are plenty of powerful eCommerce platforms available in the market & but the crucial factors like scalability, customization with the least investment are the challenging ones that spring to mind while selecting the best platform for your online business.
The best trending eCommerce platforms are NopCommerce & Magento. Both are equally powerful & Scalable. So, which one you choose to stay ahead of your competitors?
Hang on! In this blog, we have shed a light on NopCommerce vs Magento – Evaluating the best eCommerce platform that will help you to decide the best solution for your online store you should go with at the end of this article.
Read More: 5 Things You Need To Succeed as a Grocer in 2023 and Beyond | How Food Went High Tech
NopCommerce is a leading ASP.NET based open-source platform and is completely free. On the contrary, Magento offers two editions:
1. Price:
Community Edition: It's an open-source Platform & is free.
Enterprise Edition: This edition has 2 versions of Software & considerably varies in the pricing model:
Magento 1: This version relies on the Per-Server model at a starting price of $18,000/year.
Magento 2: This version delivers superior cloud-hosted performance at scale & runs on Revenue Model. The cost of this version starts from $22,000 & may exceed up to $75,000
NopCommerce doesn't acquire any Subscription fee. However, it may require some additional compensation for Hosting, potential extensions for out of the box features. At the same time, the cost will unlikely to exceed the cost comparison to the edition of Magento Commerce.
It depicts that NopCommerce demo, NopCommerce themes, and nopCommerce plugins provide the best value for the currency.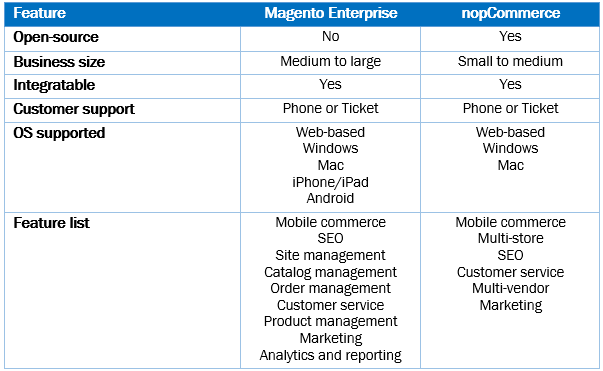 NopCommerce is fully jammed with out of the box features like SEO features, inventory management, a complex discount engine, built-in analytics, multi-lingual capabilities, multi-store, features for multiple suppliers, customizations for payment, and shipping which are straight out of the box.
However, Magento's editions contrast with each other significantly. Also, there is a substantial difference in the Enterprise edition versions:
Magento 1 includes a limited set of free features & on the flips side, Magento 2 offers paid features like customer loyalty tools, such as rewards points, gift cards, in-store credits. It enhances the shopper engagement, stimulates repeat purchases, and reward customers.
Magento 2 also appends some other marketing tools, such as flexible pricing rules, coupons, up-sells, and cross-sells, promotions targeted by customer segment, & much more. These features comes only with an additional price tag.
Magento does not come with a range of features like NopCommerce. But the similar out of the box features can be included using third-party extensions (plugins). One possible stumbling block is that integrating these extensions with Magento can lead to conflicts within your website, such as implementing a feature that can cause another feature not to function.
Read More: Five Trends Shaping Grocery Retail in 2023 And Beyond | Microsoft Dynamics 365
NopCommerce has tier pricing (great for wholesale vs. customer pricing), a recurring payment/subscription engine, and it also has an inbuilt loyalty system, perhaps the most interesting one. These integrations come at no added cost and are all out of the box.
NopCommerce significantly offers similar to Magento Enterprise marketing options, & most of the lasting features out of the box utterly free.
Therefore, NopCommerce offers a wide range of features & functionalities right out of the box. We conclude that NopCommerce leads the Magento in standard features.
3. Customization
As discussed above, both platforms are open source & offer plenty of inbuilt features. Hence, both can be customized as per the merchant needs. Both platforms allows the Application Programming Interfaces (APIs) to interact with databases, other applications, Google retailers and product feeds, and way more.
Furthermore, built-in features can be expanded by plugins and marketplace integrations. Both technologies have large marketplaces. Some of the extensions are free, while some of them may cost you a lot. Besides plugins, you can also install new NopCommerce themes for your eCommerce store.
NopCommerce has a remarkable reputation for how smoothly NopCommerce plugins can be personalized. Magento, on the flip side, needs highly skilled developers to create and customize modules.
However, both platforms are more comprehensive for users who only have basic technical knowledge. It will also require a skilled developer to create complex customization possible.
Read More: Digital Transformation | Microsoft Dynamics 365 and nopCommerce
4. Code & Security
One of the main discrimination between NopCommerce and Magento is their language. NopCommerce is written in ASP.NET backed by Microsoft technology & Magento is written to PHP, which is community-driven and is primarily hosted on a Linux server.
ASP.NET is potentially considered to be one of the most efficient & productive environments and quicker, which means that you spend less time and money on assets and cheaper hosting. NopCommerce also has a flexible architecture allowing developers to bypass most plugin functions without touching the foundation. Customization is simpler and quicker in this case, which results in quicker ROI.
In Contrast, Magento (open source version) has a history of security tests. Some users have encountered recurrent problems with the security of their Magento shop.
Magento releases security updates in every version of the release, and occasionally also in between. These are valid only for the Enterprise Editions, but the Community edition doesn't even get daily security updates, patches are only released when they're commercially viable.
Speaking further about the security, Magento Community is not fully PCI compliant, which means the online payments are not secure & requires an additional extension to overcome this issue. Whereas, Nopcommerce is GDPR, PCI DSS compliant; meet all the security standards for all kind of business.
From a security perspective, we experienced, NopCommerce wins hands down.
5. Support
Both NopCommerce and Magento provide product documentation that gives basic knowledge to use the platforms. They also have forums wherein community members support each other. Both Communities are consisting of more than 200,000 users but NopCommerce appears to be more successful with 190k+ post over Magento's 73k+.
The Forum community doesn't guarantee the solution offered. NopCommerce provides the premium Support services costing you from $299 for 3 months or $799 for the whole year.
As for Magento, the Community edition doesn't provide support besides community forums, while Magento Commerce has a 24/7 skilled technical support system through the ticketing system.
We at Tmotions ensure the best support for every level on behalf of the NopCommerce Team.
Conclusion
Both platforms are powerhouses in the eCommerce industry, enabling businesses to create great eCommerce sites for their customers with rich functionality. Magento has been around a lot longer, and with more than 140,000 Magento sites running compared to 50,000 NopCommerce sites, it is obvious that Magento is still the most common.
However, NopCommerce is a fast-growing, more stable, secure, cost-effective, faster running, and an ever-growing solution and offers more features with no additional cost.
Thus, it's an individual decision to choose between NopCommerce vs Magento- Evaluating the best eCommerce platform for their online store. You need to do a deep analysis of your business requirements, perceive which platform has more of the necessary inbuilt features and how much it would cost you for additional development and maintenance.
We hope that this blog may have clear your doubts. If you still have any queries regarding NopCommerce Vs Magento & Evaluating the best eCommerce platform, please feel free to reach our expert team & drop a line in the comment section below. We will be glad to assist you.