In the past year, there has been a shift towards digital ordering and new delivery options in the food industry. We look at what companies need to do to capture a share of this growing market
Covid has had a significant impact on all industries and the food industry is no different. In the US alone, there has been a 25% closure of food businesses, especially restaurants, a number that can easily increase.
In just 12 months, the pandemic has accelerated shifts that otherwise would have taken a decade to achieve. Digital ordering in egrocery solution, delivery options, and off-premises sales are up.
For the companies that have benefited, the key question is how to hold on to these new-found customers. For companies that are looking to rebound, the most pressing need is to identify the capabilities necessary to capture a share of the shifting market before it solidifies.
Many trends have shaping the future of grocery retail.
The Trends That Have Seen a Shift Since the Pandemic Started are :
Delivery's market share jumped from 7% in 2019 to about 20% in 2020, in the United States alone. Across the industry, digital ordering now represents 28% of all orders compared with 10% before the pandemic, with most brands showing increases.
For instance, Chipotle's digital sales mix increased from 20% in the fourth quarter of 2019 to more than 60% in the second quarter of 2020.
One-third of restaurants' digital customers ordered online for the first time during the pandemic.
Almost 40% of all customers say that they expect to spend more on pickup or delivery from restaurants in the next six months.
Data also shows that loyalty programmes significantly enable digital sales. On average, nearly 60% of loyalty programme members use the brand's mobile app (and engage digitally with the brand), compared with only 5% of all restaurant users.
As Covid-19 forced brands into cost-cutting mode, spending on traditional TV was one of the first budget items that companies cut.
Read More: Microsoft Dynamics 365 For Sales | NopCommerce vs Magento | NopCommerce
New Order
With a sudden focus on digital solutions like eCommerce marketplace software, unified commerce experience, the food businesses started investing heavily in building tech solutions and end products to gain traction after the shakeup.
The digital leaders, however, now realise that the best approach to maximise the output from such digital advancements is to marry them with a human touch.
The intent and the best-case scenario for food tech brands is to design technology and human interaction that yields transformational outcomes in operations, customer experiences, and relationships, with purpose at the heart of this approach.
Digital technology transformation in every field increase digital customer experience that plays in ensuring customer satisfaction and brand loyalty, differentiation from competing companies.
Depending on the current journey of brands in the food business, there are a handful of actions to explore:
1. Digital Store
This is the starting point and the most fundamental need in today's market scenario. It has been found that most consumers prefer to order directly from the brand's mobile application or a unified eCommerce solution. Custom eCommerce solutions can grow hand-in-hand with your business. This also is a vital entry point to capture much-coveted customer data to be further processed by advanced analytics and AI solutions.
2. Delivery and Off-Premises Capabilities
There has been a recent surge in customers opting for delivery and 'drive thru' channels to meet their needs. For businesses, this means expediting execution of off-premises capabilities and solutions and holistically leverage end point aggregators like UberEats, DoorDash etc. Another consideration here would be deciding the role of 'owned delivery' versus 'use of aggregators' as it will have a significant impact on profit margins for future delivery orders.
3. Loyalty
Loyalty programmes are an essential and powerful tool, which help draw in customers and sustain them for considerable periods. It has been found that loyalty points and a well thought reward system garner four times the customer acquisition rate of discount offers, resulting in six times the email response rate. (BCG Study)
4. Deep Personalisation
It's equally imperative to offer personalisation in a manner that seems very personal. Capabilities like deploying 'just-in-time' personalisation, build the foundation for digital relationships that drive direct sales and create emotional connections with customers. Mostly, brands initiate data capturing as soon as the purchase is complete, but the leaders with a well-thought-out strategy initiate the relationship much earlier persuading potential clients to sign up for emails and offers.
Read More: 5 Things You Need To Succeed as a Grocer in 2023 and Beyond | Harnessing Cloud For Success in Pandemic – 2023 Edition
5. Technology Enablers
Having a holistic AI strategy to derive key customer needs and habits has been the central point in today's scenario. This strategy will tie together facets like AI, machine learning , chatbots and voice ordering into one seamless solution.
To engender such cutting-edge capabilities, brands need to redesign their tech systems that are foundational to the digital sales channel because it provides the basic functionality for ordering and paying via a mobile app or website.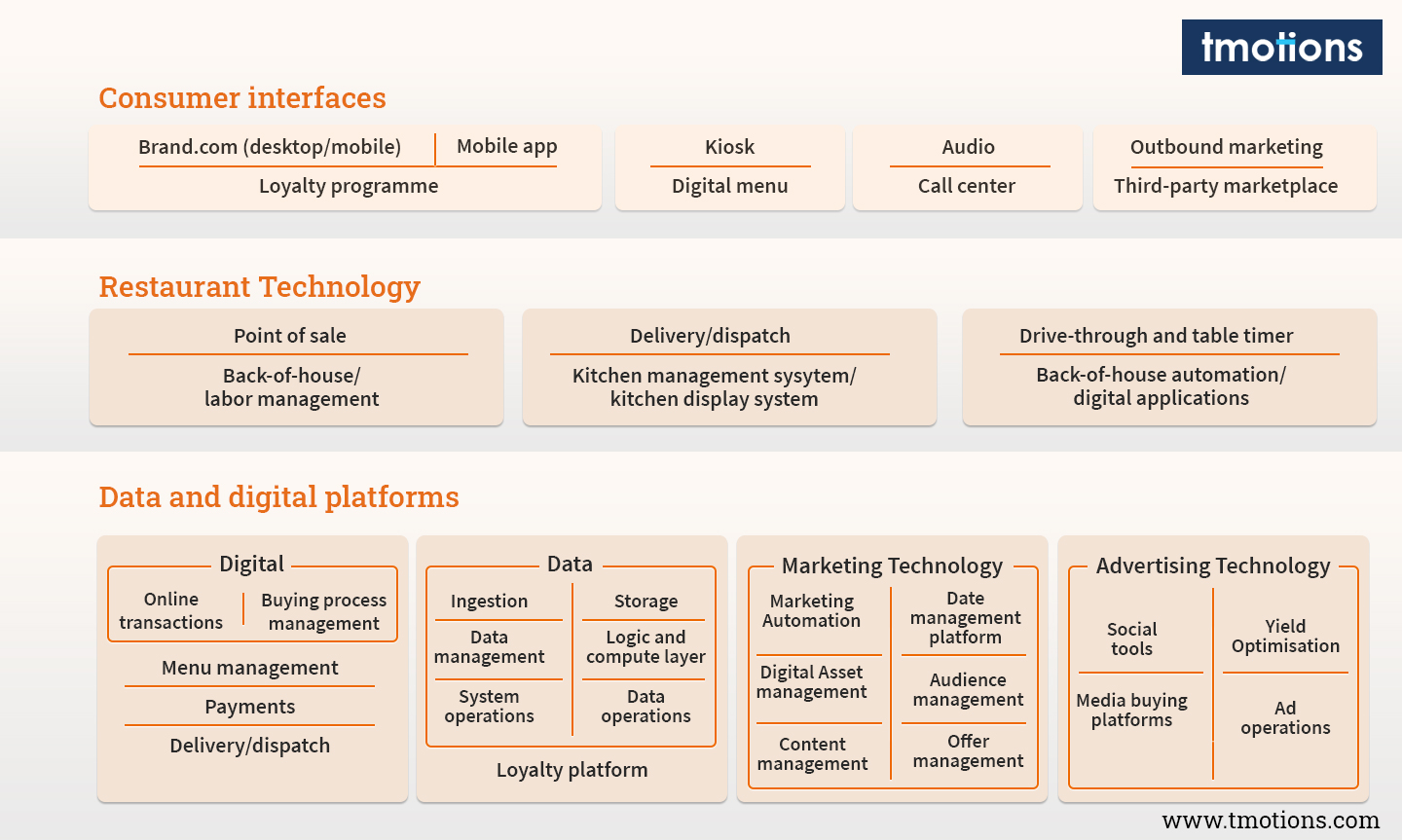 The highlight of this system is:
It gathers, cleans, stores, and manages first-, second-, and third-party data, making AI at scale possible.
Authorises a unified flow of intelligence, such as pricing and promotion logic. From a central engine to all purchase channels, including the digital channel and the in-restaurant point-of-sale (POS) system.
Facilitates a much more agile, product-centric approach to development. Because it fully integrates the modern architecture across POS, the digital ordering system, and even third-party tech platforms.
6. Human Element
The human element is a key ingredient in this new approach. This requires an organisation model that is very different from the traditional management pyramid. Instead of a process that incorporates multiple layers of approval, small autonomous teams make decisions quickly.
The necessary support from the tech and data platforms is structured. So that everyone has access to the same data, technology, and resources. The human enablers include skills, the organisation model, and ways of working.
Similarly, an agile approach and mindset with a focus on getting quickly to a testable result. Ensures that the company will not waste resources on a drawn-out process to deliver a perfect product. That may not actually meet the needs of the end user.
This amalgamation of technology, quickness, and a test-and-learn approach will facilitate a business. To rapidly scale up profitable pilots on the basis of actual data. While adapting and improving certain aspects on the basis of new feedback.
Crises such as Covid breed opportunities. In an ambiguous environment, the competence and eagerness to prepare for parallel actions, place big bets. And make quick choices are precious attributes. Food companies that develop a clear-eyed view of this hybrid future can move forward decisively while others struggle.
Speak to our Food tech experts for free consultation. Drop us a note at info@tmotions.com
Read More: Power Up your B2B eCommerce with Search