Drupal is a powerful and flexible open-source content management system (CMS) that has gained immense popularity and significance since its initial release in 2001. It is widely recognized for its versatility, scalability, and robustness, making it a popular choice for building websites and online applications of all sizes and complexities.
At its core, Drupal provides a framework for managing and organizing digital content, allowing users to create, publish, and update web pages, articles, blogs, images, and various other types of content. It offers a wide range of features and functionalities that empower individuals, businesses, and organizations to build dynamic and interactive online platforms.
One of the key strengths of Drupal lies in its modular architecture. It follows the philosophy of "core and contributed modules," which means that the basic system, known as Drupal Core, provides essential features and functionality, while additional features can be added through contributed modules developed by the Drupal community.
Drupal also emphasizes collaboration and community-driven development. It has a vast and active community of developers, designers, and enthusiasts who contribute to its continuous improvement and enhancement. This community-driven nature ensures that Drupal stays up to date with the latest trends and technologies, and it fosters a culture of knowledge sharing and support among its users.
Navigating the Drupal 9 End-of-Life | Building Success: Streamlining Workforce Management for Construction Enterprises
Significance of Drupal
Flexibility and Scalability

Drupal offers incredible flexibility, allowing users to create and manage websites and applications of any size and complexity. From personal blogs to enterprise-level websites, Drupal can handle a wide range of requirements and can scale as your needs grow.

Robust Content Management

Drupal excels as a content management system, providing a comprehensive set of tools for content creation, editing, and publishing. It allows users to create complex content structures, categorize content, and control permissions and workflows, making it ideal for websites with extensive content requirements.

Customization and Extensibility

Drupal's modular architecture enables users to tailor the platform to their specific needs. The extensive collection of contributed modules, themes, and distributions allows users to add functionality and change the appearance of their sites without the need for extensive coding.
Maximizing GA4: Your Step-by-Step Migration and Utilization Guide | Unleashing the Power of Accessibility Testing
What's Great about Drupal 10?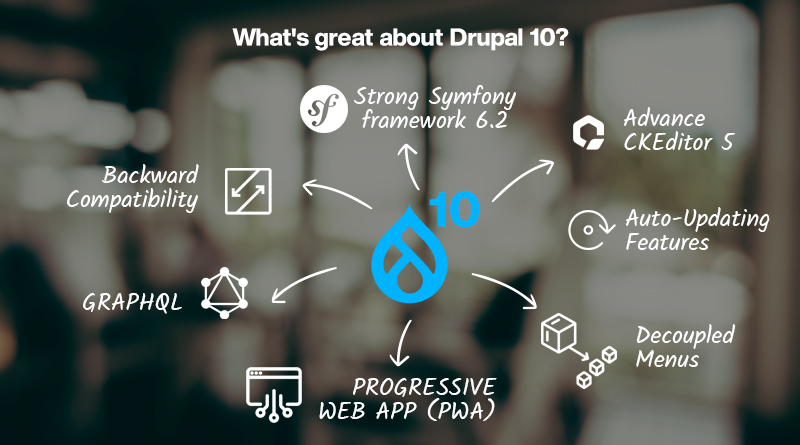 Improved user experiences for content administrators are now possible with the new default front-end theme Olivero, which is highly customizable.
The Admin Panel has received an upgrade with the introduction of the new theme, Claro.
Enhanced and User-Friendly Rich Text Editing: Simplified Content Management with an Appealing Interface.
Streamlined Workstream Management for Content Authors: Enhanced Core Code Performance and Modular Efficiency in the Contrib Area
A new Drupal project can be started with either Drupal 9.5.0 or 10.0.0; however, it is recommended that you use Drupal 10 wherever feasible to ensure backward compatibility with future releases.
Uniform Development and Enhanced Stability: A Comprehensive Code Cleanup in Drupal to Remove Deprecated Code
Top Drupal 9 Features That Make It the Ultimate CMS for Your Next Project | Leveraging the Metaverse for Business Success
To effectively plan for Drupal updates and stay up to date, consider the following best practices:
Stay Informed

Keep track of Drupal news, security advisories, and release notes to stay informed about the latest updates, security patches, and new features.

Test Updates in a Staging Environment

Before updating your live website, create a staging environment where you can test updates and ensure compatibility with your existing setup. This helps identify any potential issues or conflicts before implementing updates on the live site.

Backup Your Website

Prior to performing updates, create a backup of your website. In case anything goes wrong during the update process, you can easily restore your site to its previous state.
Winning at B2B Commerce | NopCommerce – The Ultimate Complete Guide | Leveraging Big Data in Ecommerce
Drupal 9 vs. Drupal 10 Comparison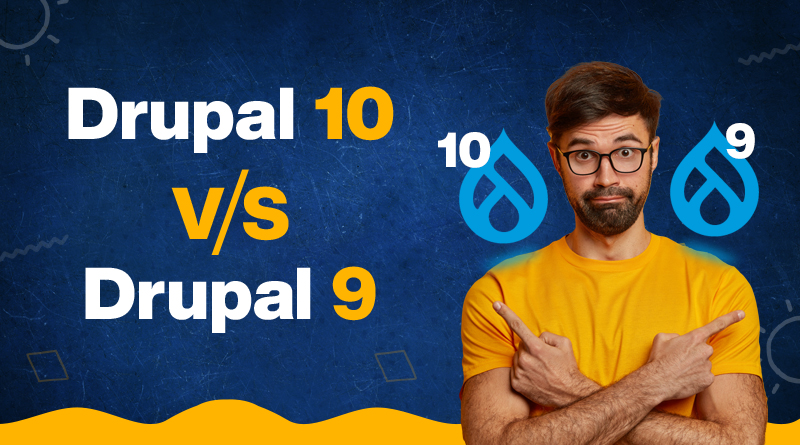 Here's an updated comparison between Drupal 9 and Drupal 10 based on the information you provided:
Enhanced Layout Builder

Drupal 10 introduced an advanced layout builder, offering more powerful and flexible tools for creating and arranging page layouts. This feature greatly improves the design and customization capabilities of your website.

Multimedia Features

This improves multimedia management. These enhancements include better handling of images, videos, and other media assets, making it easier to incorporate rich media into your website.

Improved User Experience

With each update, Drupal focuses on improving the user experience for both content editors and site administrators. Drupal 10 provides a more intuitive and user-friendly interface, making it easier for non-technical users to manage and update their websites.

Ongoing Development Efforts

The Drupal community and core development team consistently invest efforts to enhance the CMS. Each new version brings substantial improvements, bug fixes, and performance optimizations. By staying up-to-date with the latest version, you can benefit from these ongoing advancements and ensure that your website remains secure and optimized.

Easier Transition

Upgrading from Drupal 9 to Drupal 10 is expected to be a smoother process compared to previous major version upgrades. The backward compatibility and streamlined upgrade path between Drupal 9 and Drupal 10 make it easier for website owners and developers to transition and take advantage of the new features and improvements.

Business Advantages

Keeping your website up-to-date with the latest Drupal version offers several benefits for your business. It allows you to leverage new features, stay ahead of the competition, enhance user engagement, and improve overall website performance and security.
The Ultimate Guide To ChatGPT [AI Chatbot Guide] | Immersive eCommerce is Here | Microsoft Dynamics 365 For Sales
Need Help Upgrading?
At TMotions Global Limited, we understand the importance of Drupal migration and have expertise in guiding organizations through the migration journey. Our team is dedicated to providing active support and ensuring a long-lasting and successful partnership.
If you are considering migrating your website to Drupal 9 in preparation for Drupal 10, we can offer our Drupal migration services. Our experience and knowledge in Drupal will help ensure a seamless migration process, allowing you to benefit from the latest Drupal features and enhancements.
To learn more about our Drupal migration services and explore how we can assist you in preparing for Drupal 10, please reach out to us at info@tmotions.com.
Microsoft Dynamics 365 and nopCommerce | NopCommerce vs Magento | Digital Transformation: A Necessary Disruption