Do you know what your customers really want? Make sure you're using data and insights to offer customers the foods and experiences they hunger for.
Even as the pandemic seems to slow down after creating much upheaval, the fundamentals around food consumption remain the same – people need to eat.
But what has changed is how often they eat, where they eat, and what they want to eat. And this is evolving fast. Yet many grocers don't have the knowledge to fully understand how to satisfy consumers' unique and ever-changing appetites.
Consumers, for instance, expect a variety of options and additional services, such as meal kits, pre-chopped foods, lockers or click and collect.
Read More: B2B eCommerce | How Food Went High Tech | Harnessing Cloud For Success in Pandemic – 2023 Edition
Grocers need to anticipate people's food requirements, behaviors, and habits to keep consumers loyal to their brand and attract new customers.
With the plethora of data available on consumer buying habits, it's a potential gold mine for grocers to bring together data about purchase patterns, history, basket, lifestyle, and demographics to know what customers want, how they want to experience food, and when.
Digital transformation strategy is often forced onto industries, thanks to trends that are shaping the food industry to ease the system.
if you are grocer need a boost to your business then you can get leverage some of digital transformation opportunities.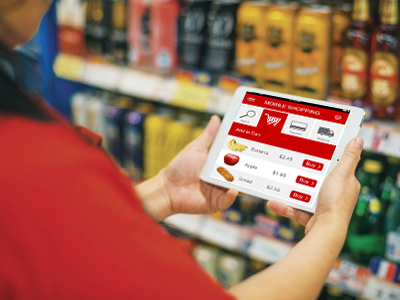 1. Leveraging Insight
Grocers need to navigate towards a holistic picture that offers deep intelligence on consumer buying patterns. A central portal that feeds data from fitness apps, food tracking apps, Instagram, yelp, online recipe boxes, and more will enable grocers to leverage data to offer smart offerings to consumers and become much more than a convenience store.
2. Personalisation
Having customer data enables grocers to shape and propose assortments that not only appeal to customers' tastes and lifestyles but also adds to the bottom line. For instance, there are opportunities to lead customers from generic food items to more health-centric choices, revolving around sustainability.
Grocers must build on the massive amount of data available, which will become even more ubiquitous and accessible.
3. Uplift the Shopping Cart
Grocery shopping is a chore and can be a mundane task. On top of that, it only fulfills a certain fixed need but does not address more facets of consumers' lives. One way to boost the cart experience and make things easier for customers is to cross-merchandise meals so consumers don't have to go to various stores for the ingredients they need.
Another way could be to add an advanced function that helps consumers find food items at a much faster rate.
4. Optimise Operations
As grocers understand the data they are sitting on, they must get more predictive. One such way would be to digitise operations. To unlock insights, grocers should modernise end-to-end operations from the supply chain to field operations and IT.
For instance, a digital supply chain offers visibility so grocers save costs and reduce food waste by minimising unnecessary inventory. An optimised inventory makes it easier for customers to get what they want (fast). It also allows you to pivot quickly when trends change.
5. Leverage Automation
Grocers need to start looking at traditional roles of staff with the idea of optimising them with automation and technology. The focus can then be put on offering differential experiences by reinvesting savings and retraining staff.
Ecommerce websites deliver a satisfying shopping experience, securing customer retention. One example of this could be to imagine if the store workforce was redeployed on Friday nights to fill shopping carts for families based on their digital list, while the family enjoys dinner at the in-store restaurant.
Analytics can be leveraged to identify skills gaps and reveal opportunities to continuously reskill the workforce to keep skills relevant. As grocers face ever-increasing pressure from big box retailers and wholesale clubs, grocers can beef up insights and act on them by maximizing the use of data.
It's time to step up to the plate and use insights to offer customers the foods, choices and experiences they hunger for.
To know more about TMotions eGrocery solution, click here or book a demo.
Read More: Microsoft Dynamics 365 for Sales | All You Need to Know About NopCommerce